"This isn't yours is it?" scolded a soft Welsh accent whilst a tatty cardboard membership card was waved at me. "err, no…." said I. "Well, I'm keeping it but you can come in anyway"
If Steve Strange had turned me away from my attempted bunk-in to The Blitz club that night in 1979 I'm quite sure my life would have been very different….. A big statement to make I know.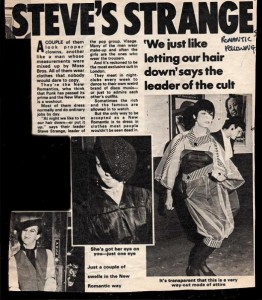 at Blitz – me in the net with my 'Cabaret' hairstyle (Weekend Magazine)
Steve was always sweet to me, I used to tube-trundle my solo 17 year old self down from Northolt and I think he had a bit of an eye for spotting us small-town-refugees-in-need that found their way to his door, given he was an escapee himself.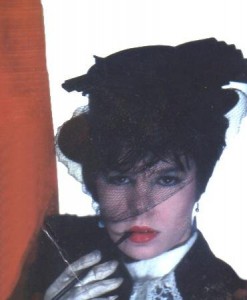 It's hard to grasp how bleak the UK was then. Yes there'd been punk but that too was an aggressive vibe. Wearing anything remotely flamboyant could get you into bother – I once had to hide in toilets at Ealing Broadway from a pursuing gang of skinheads whilst wearing Victorian-esque garb (me not them). Stuck in the suburbs was a lonely place for a 'dresser-upper' and it is honestly no exaggeration to say that when I found the Blitz club it felt like I'd found my home.
That weekly Tuesday night haven on Great Queen St, with it's haphazard décor (part disco, part cellar bar, part 'ello 'ello roomset), haze of tobacco smoke and powerful aroma of Leichner makeup, eau-de-Oxfam and Elnet hairspray was everything to look forward too. Rusty playing just the opening bars of Simple Minds 'Changeling' would fill the tiny dance floor …. duos of the exotically garbed, reeling about in a kind of swaying, ducking, semi high-kicking dance that seemed unique to the Blitz. The music was unsitdownable, there were performances by artists such as Tik & Tok, Spandau, Biddie and Eve …. and Miss Binnie would sometimes do a streak. Any era, country, fictional character or futuristic imagining … whatever and whoever you felt like being that night and could conjure up from your dressing up box was just the very thing.
As happens to those who create something successful Steve had to put up with all kinds of jibes and banter, most hilariously from George, Marilyn and Phillip Salon and yes, he was quite able for a waspish response but was actually very funny and self depreciating with it too.

stills from Circle Line party video (no copyright infringement intended)
Other nights out en-masse with Steve involved Circle Line parties – there were platform pubs at tube stations AND you could smoke, gatecrashing swanky events, clubs and posh parties (no one EVER stopped us??!) We owned the bloody world, high on youth (mostly…) and the future. Living in squats and (those of us who weren't St Martins students) working in places like Kensington Market, we survived on very little money, baths at Oasis, dubious fry ups at ramshackle Sams caff, other peoples cocktails, Camel fags and the odd pint of doorstep-pinched milk … and lived a high old hedonistic time.
I honestly think that those of us lucky enough to have lived through that starburst developed an 'I can do anything' way of life ….. a belief in yourself to have a go at something. A few found fame and fortune and many others success in all kinds of varied careers and lifestyles. Some were lost in action but are remembered still, and many have since fought their own demons – Steve amongst them. Hedonism does not come without a price.
So thank you Steve for not turning me away that night but opening a door onto a world full of possibilities within my grasp…….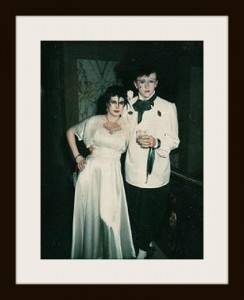 They were the time of our lives.
RIP Steve Strange 1959-2015
Links;
Shapers of the 80's David Johnsons seminal website on 80's culture. Tributes to Steve
A bit of footage including Circle line party.