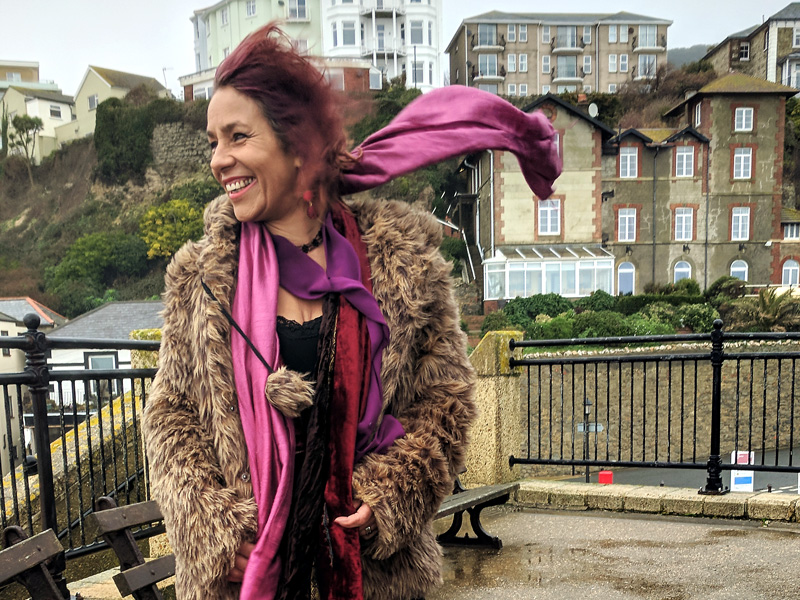 People from the Isle of Wight like to boast that it is the Sunniest Place in Britain™, and most of the time is is worthy of that accolade. However, in the depths of winter the days can be quite gloomy and pretty windy – perfect for blowing away the cobwebs after a New Year's Day party.
On the second of January I took the street style camera to Ventnor and found triathlete Cherry Shannon, brightening up the overcast day with her spectacular pink DMs and matching scarves.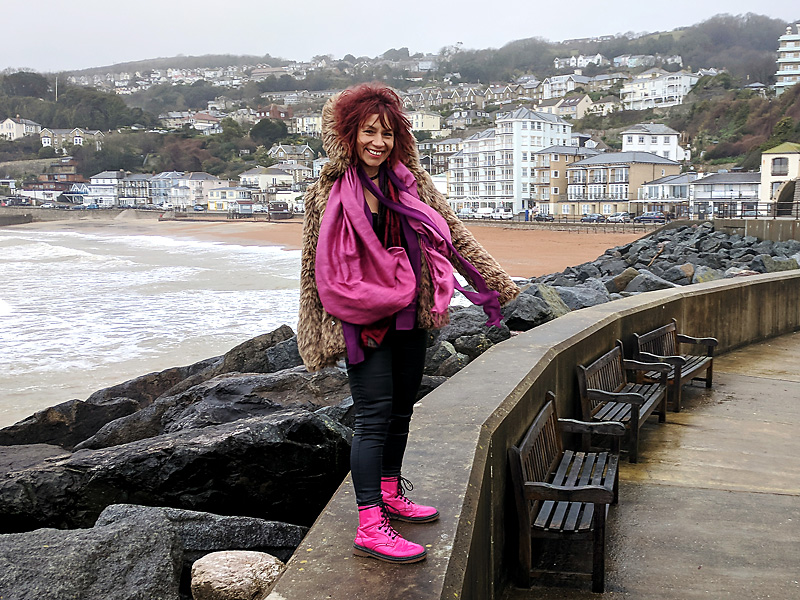 How would you describe your look?
I usually wear lycra, sensible walking boots and a Karrimor coat for walking my dog, but I'm not frightened to wear bright clothes. Everyone should wear bright clothes, including men! I like to be a bit individual; it harks back to my Zanies nightclub days!
You've certainly brightened up Ventnor today.
Life's more interesting when you wear something colourful. My mate wears really bright clothes; patterns, loud shirts, DMs. When I go out it's nice to wear something that doesn't look like everyone else.
Have you always had a distinctive look?
I used to wear things differently in the 1980s. Back then I had a few evening dresses, including a puffball dress and a white satin dress with a fishtail. My friend Martin used to take pictures of me. We didn't care what people thought; we used to make our own fashion and be more creative. The hairstyles back then were more individual too. I like tousled, wild-look hair.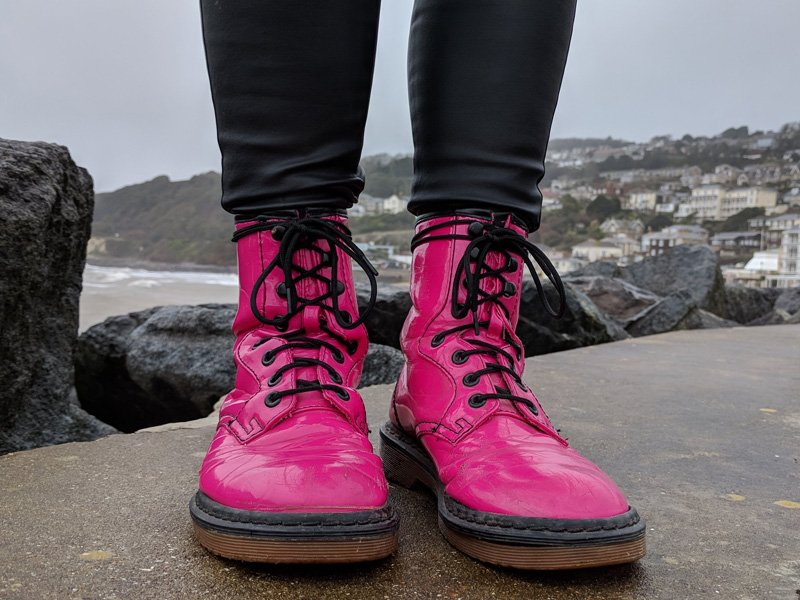 Those boots are fab!
I saw these funky pink boots in the window of the Ventnor hospice shop for 'Wear it Pink' day. They were brand new. I don't go in charity shops often, but sometimes I'll spy something in the window, like these boots – or a Fair Isle jumper I bought recently in RSPCA shop.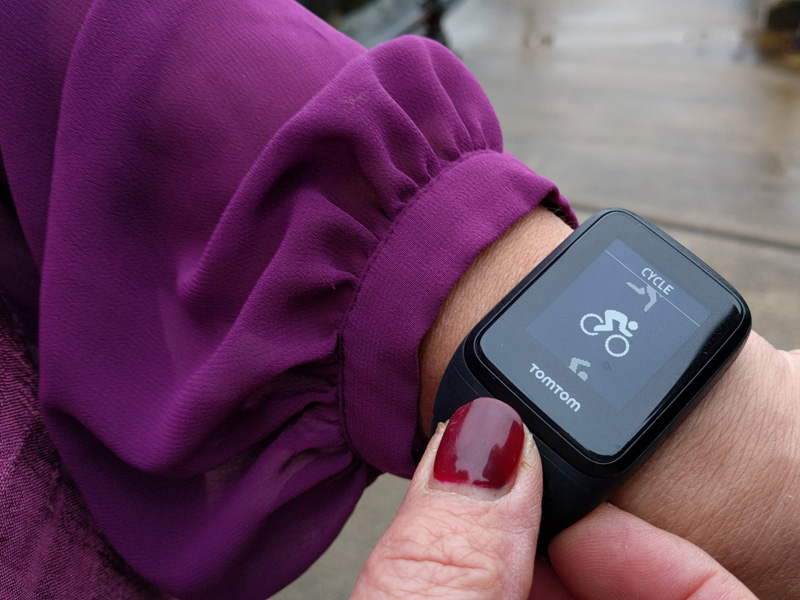 That watch looks a pretty serious bit of kit.
I like to buy the right stuff for my triathetics, like this TomTom satellite watch, which I use for my triathlon training. It's got running, cycling and swimming apps built into it.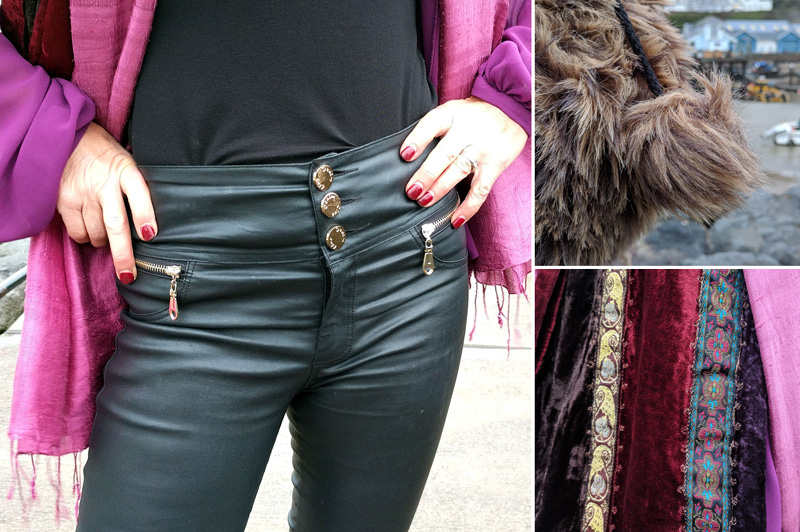 There are a lot of textures in your outfit.
This blouse I bought for a dress-to-impress party. I got these pleather trousers when I was holiday in Tipperary. My bright scarves are from various places; one I think was a present. My leopard print fur coat with hood and pompoms was from Primark.
It looks lovely and cosy for a gusty day like today! Thanks Cherry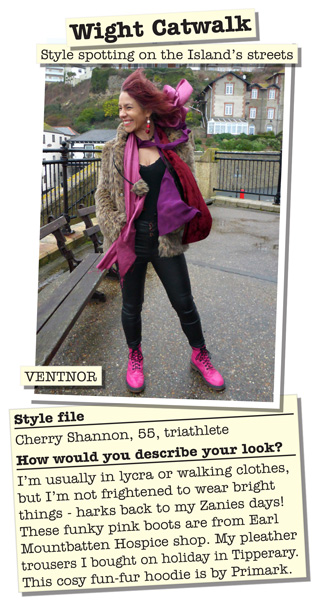 Cherry Shannon featured as a Wight Catwalk street style spot in the Isle of Wight County Press.