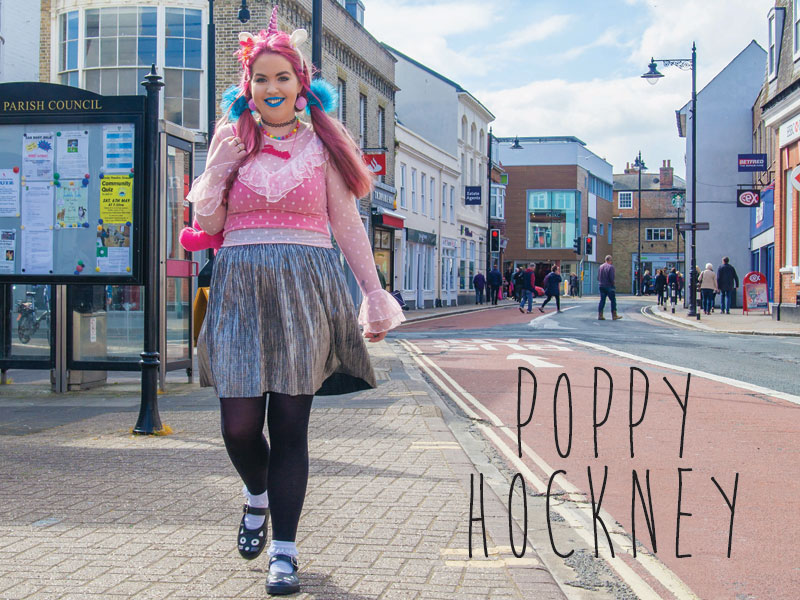 Poppy and I bonded over a mutual love of holographic materials on one of my many lunchtime jaunts to Claire's, where she works as a supervisor. Although I'm probably a few decades above Claire's target demographic I spend quite a lot of my pocket money in their Newport shop on budget wrist candy, neon hosiery and discounted silver jewellery.
How would you describe your look?
I take bits from Harajuku fashion; I like to put my look together from different clashing styles. I like metallic, glittery and holographic things, unusual things, random, vintage and charity shop stuff.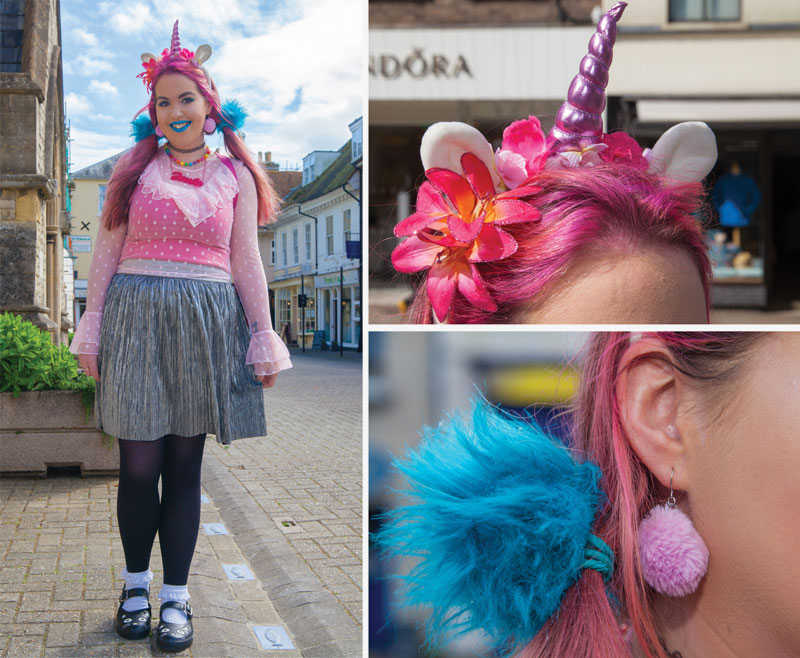 Some Harajuku looks are quite prescriptive, others a bit more freestyle. You have more than a hint of kawaii and decora about today's outfit.
I love hair decoration. Today I've styled my pink hair in bunches, added my Claire's unicorn ears with their integrated metallic horn, and finished the look with flowers and pompoms.
Hang on, that Barbie necklace actually says 'Zombie'!
Yes, I love my Kreepsville 666 zombie/Barbie acrylic necklace with skull. I've stacked it with rainbow stars and a black choker.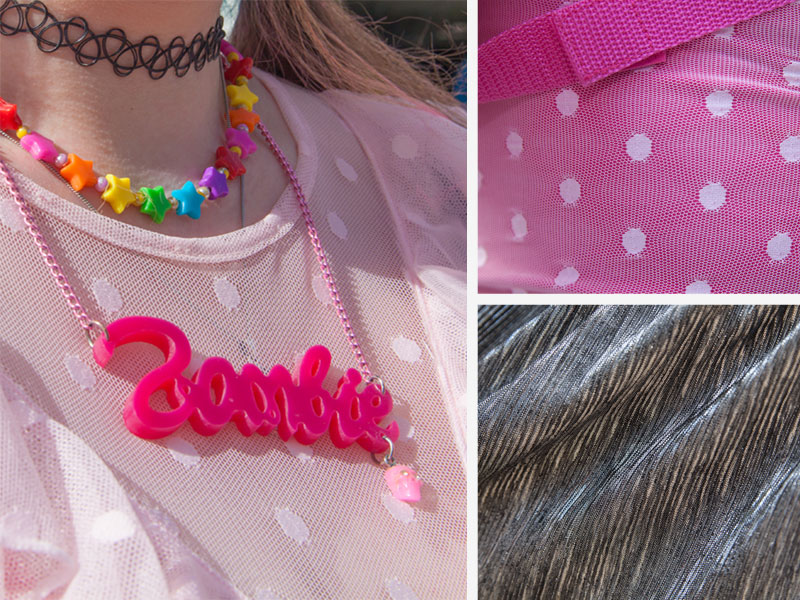 Talk me through the rest of your look.
My silver pleated skirt is by H&M. This polka dot mesh blouse is new, and also by H&M. I get stopped by people quite a lot; I was in a charity shop the other day and a lady said I look like I live in a fantasy land.

And I love those shoes!
My cat-face shoes are by TUK, I bought them in Schuh. I like Irregular Choice shoes but I find it hard to walk in them! I can buy them in Ventnor though, which is great.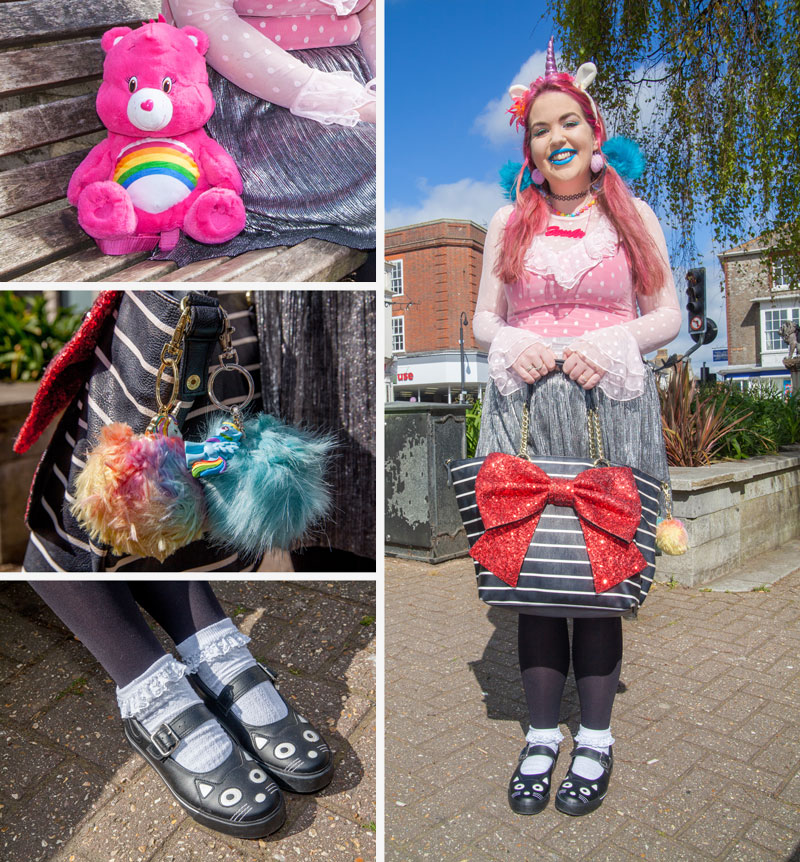 It's great the way you have clashed your bags.
My glitter bow bag is by the American designer Betsey Johnson – she's my favourite designer. I found the bag in TK Maxx (I go there every day!). My Care Bear plush rucksack is Cheer Bear.
You've managed to incorporate such a lot of detail.
I like to mix it up a bit; my rings for example are heirlooms. I'm wearing NYX lipstick, in blue liquid suede.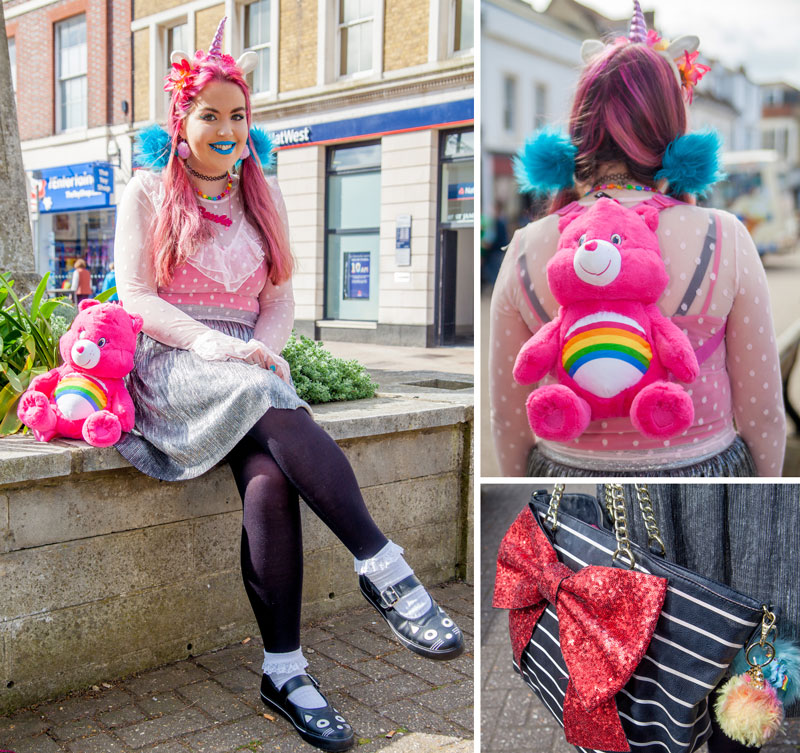 Poppy Hockney – like the artist?
Yes, David is my dad's cousin. It's my claim to fame!
Thanks Poppy.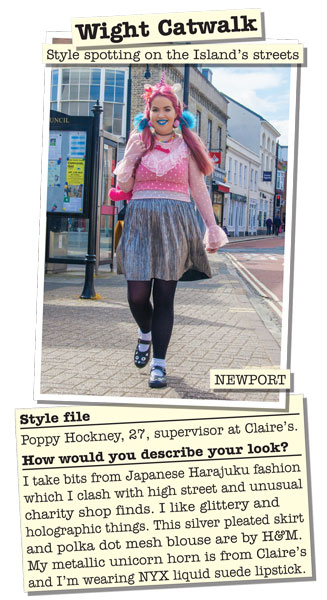 Poppy Hockney featured as a Wight Catwalk street style spot in the Isle of Wight County Press. Photography by Steven Collins. 
Save
Save
Save
Save