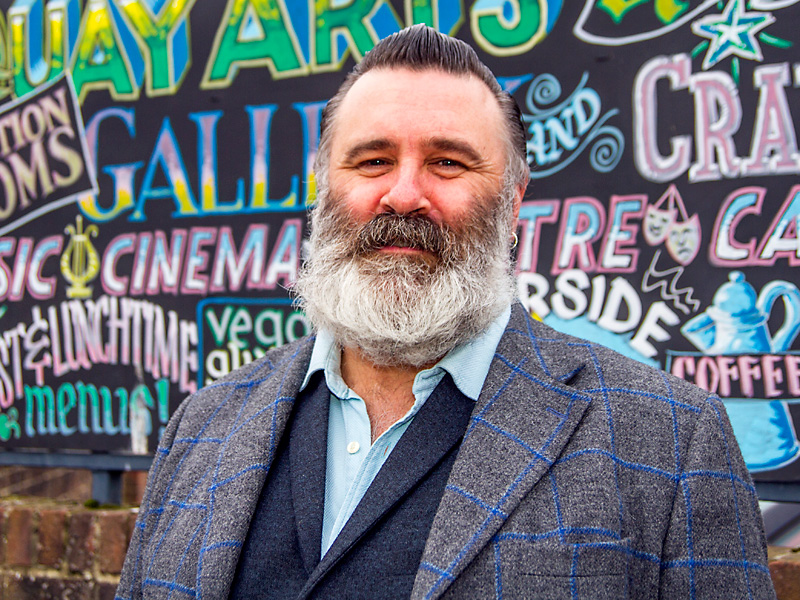 I spend a lot of time browsing Tokyo Fashion. Those Harajuku kids know a thing or two about curating a head-turning look for the street style spotters to coo over. But being stylish isn't solely the preserve of the young. Always with one eye on folks promenading the Island's streets, it's not so much skinny teens but my contemporaries who are rocking some serious duds (as the hepcats might say, daddy-o).
Musician and arts centre manager Paul Armfield has embraced the full beard and turn-ups of the urban bohemians, and I was delighted when he stepped forward to be photographed for Wight Catwalk.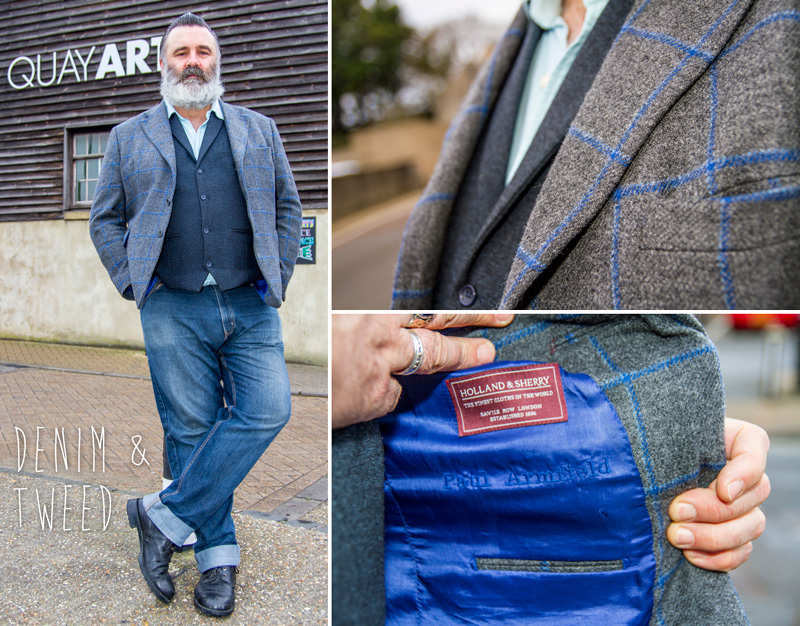 How would you describe your look?
It's usually tweeds and denims – a rock n roll country gent!
Where do you buy your clothes? Do you shop on the Isle of Wight?
Ages ago charity shops used to be full of tailored clothes – plus-sizes too. Most of my tweed jackets are cast-offs; one I've had for thirty years. TKMaxx is quite good for plus-sized stuff. I love Peacocks – I look out for the pale blue label in their coat hangers as that's the size which fits me. They also do longer-fit tee shirts. Burton's online has a whole plus-size section with some decent stuff.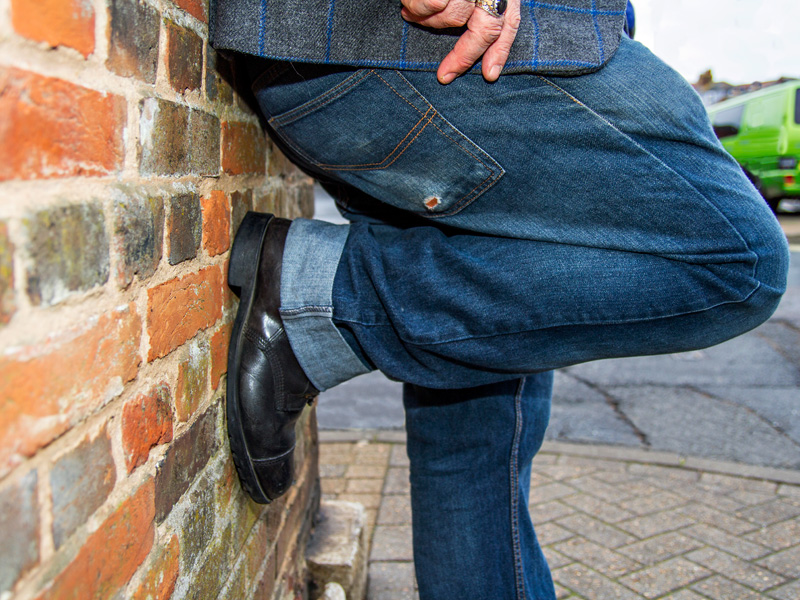 Your turn-ups are bang on trend.
I like jeans with turn-ups; they are a punk styling that I can't shake. It's also necessity – I need jeans with a big waist, and they come with long legs.
And tweed is having a revival right now too.
Yes, they first climbed Everest in tweeds! This jacket was made for me by King and Allen, London with Holland and Sherry fabric – it was quite an investment. The style is based on my thirty year old jacket. I wanted rounded lapels too but alas they couldn't do that.
My wife can sew and makes some of my clothes, waistcoat and trousers. We bought a load of nice wool to make Oxford bags. I find trousers off the peg are all narrow these days.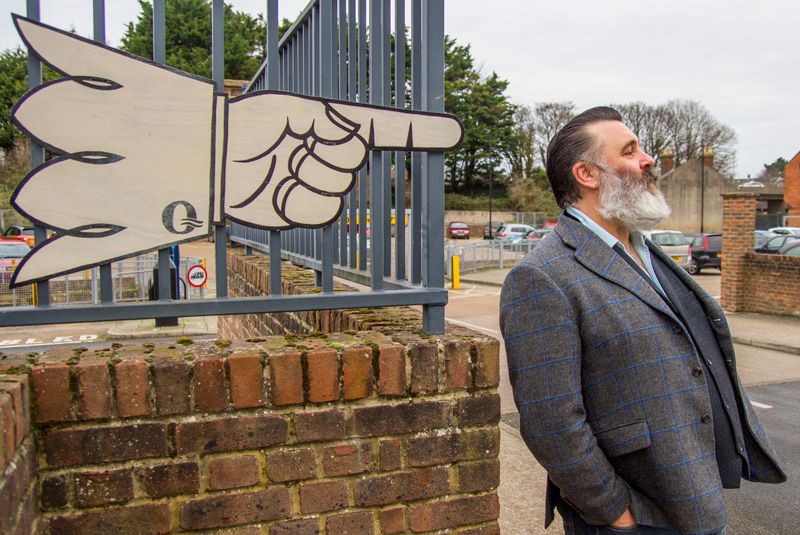 Tell me about your footwear.
I wear these shoes all the time. It's boots or creepers for me; normal shoes look too small. These are workshop boots from the army surplus in Newport. I feel under-dressed without big shoes.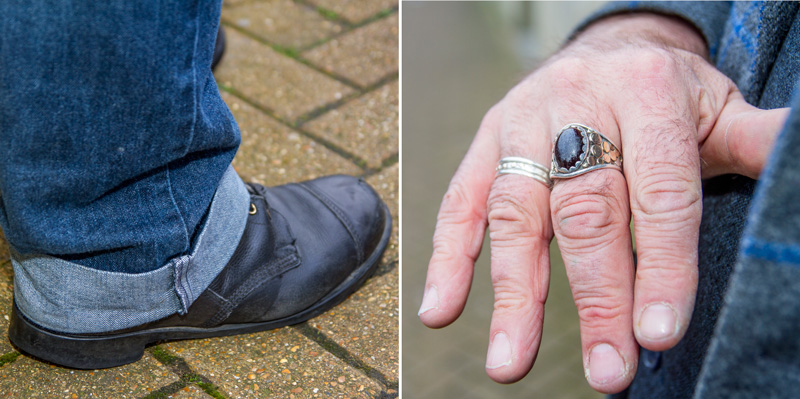 How do you finish your look?
My hair is by Stuart at Barbercube. These rings are Theodosia. They're gold and silver; one has a dark garnet. I had another one; when I lost a bit of weight it fell off into a box. Penguin Books found it and sent it back to me – and it got lost in the post!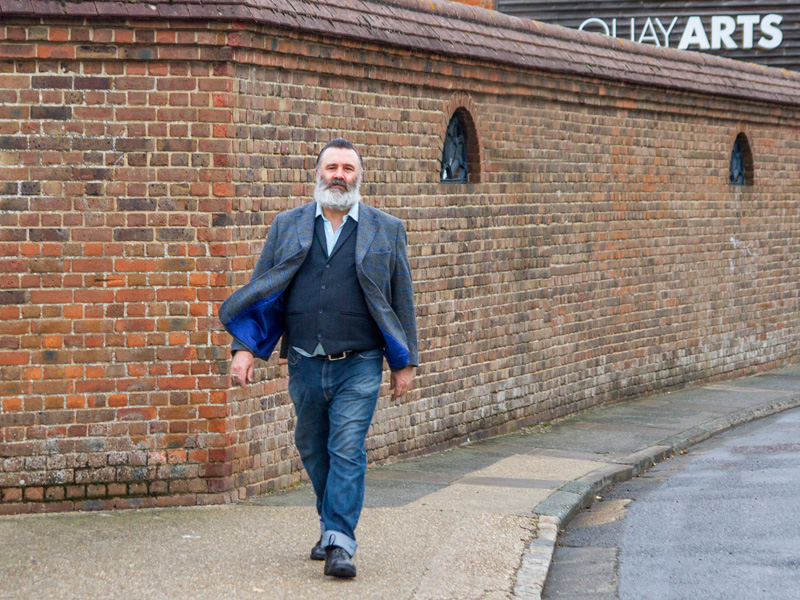 Thanks Paul!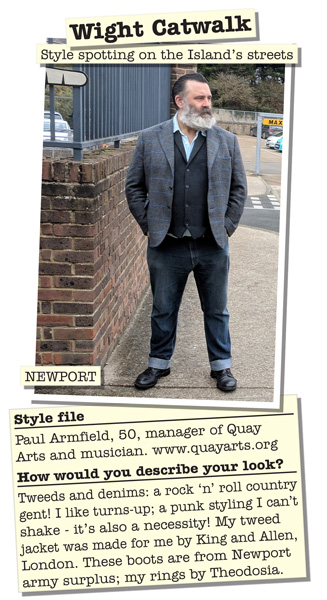 Paul Armfield featured as a Wight Catwalk street style spot in the Isle of Wight County Press. Photography by Steven Collins.