Working in tourism means husband and I work our bahoonies off all summer and leg it off to somewhere interesting for a couple of months in winter. I just love to travel. Sounds a bit flash? Nah – we aren't big earners. I drive a rubbish car to save vacation ££'s and ginormous designer bags? … Pah! you can travel for months for the price tag of one of those over-the-shoulder-monstrosities.
This year we toured Thailand, Laos and Cambodia. Well worn backpackers routes 'cept as we are now over 50 count us in for #flashpacking – no thank you to shared toilets and 'dorms' – many hostels and homestays have en-suite doubles. Some better than others that's for sure … but hey, that's the fun of it.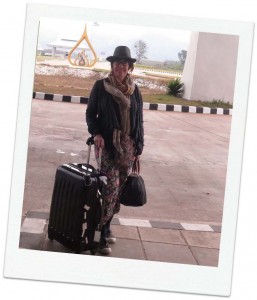 Oh and a rucksack? Nope. 4 wheelie drive suitcase for me, thanks. MOST of the time that's fine and if we are in a bit of a tricky spot – IE traipsing down a beach in midday sun looking for 'our' hut or navigating a rickety gangplank to a ferry … I do have said lovely husband 🙂
Dressing 'politely' for different cultures meant I had put together a capsule wardrobe of mainly muted shades and layering pieces that could work for temple bothering, travelling and beach time. I was quite happy with this until I began to clock the colours and patterns worn with panache by local ladies of the countries we were visiting. Most especially in Cambodia.
The Kymer chicks totally rock pattern and colour clashes. Paisley with animal print, spots with plaid, florals and stripes … and often all six at once …. and it looks AMAZING. I wish I was quicker with my camera as I saw some stunning ensembles from the bus while going through little villages…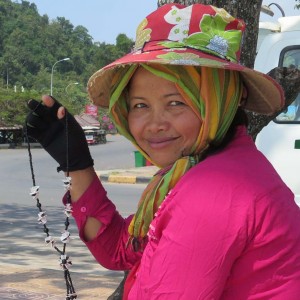 I do have this picture of a gorgeous lady that I bought some accessories from in Kep which gives a small hint of the fabulous colour and pattern combinations.
I was kind of thinking I ought to add a bit more colour to my wardrobe, I love the neutrals but hmmm … may have got in a bit of a rut here. Dare I say maybe a bit dowdy? Urk.
So. We got to Phnom Penh and having had the tip off from a friend (thanks Ced), we visited a shop called A.N.D …. Oh. My. I KNEW I'd left plenty of space in my suitcase for a reason by not succumbing to Alibaba troosers and dodgy T-shirts from the markets.
I visited twice and spent all my holiday money (I will be writing a separate blog post about A.N.D … there's an Isle of Wight connection…)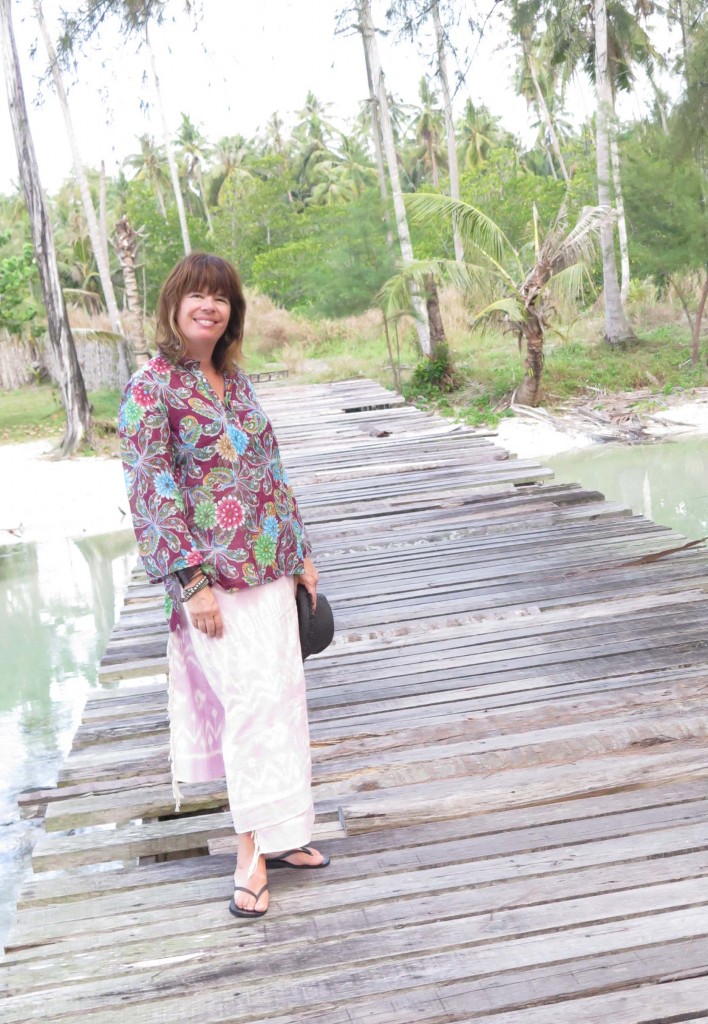 Vintage fabric drop hem mandarin collar shirt $25 – A.N.D
Ikat weave sarong/throw/tablecloth, what-you-will $30 – A.N.D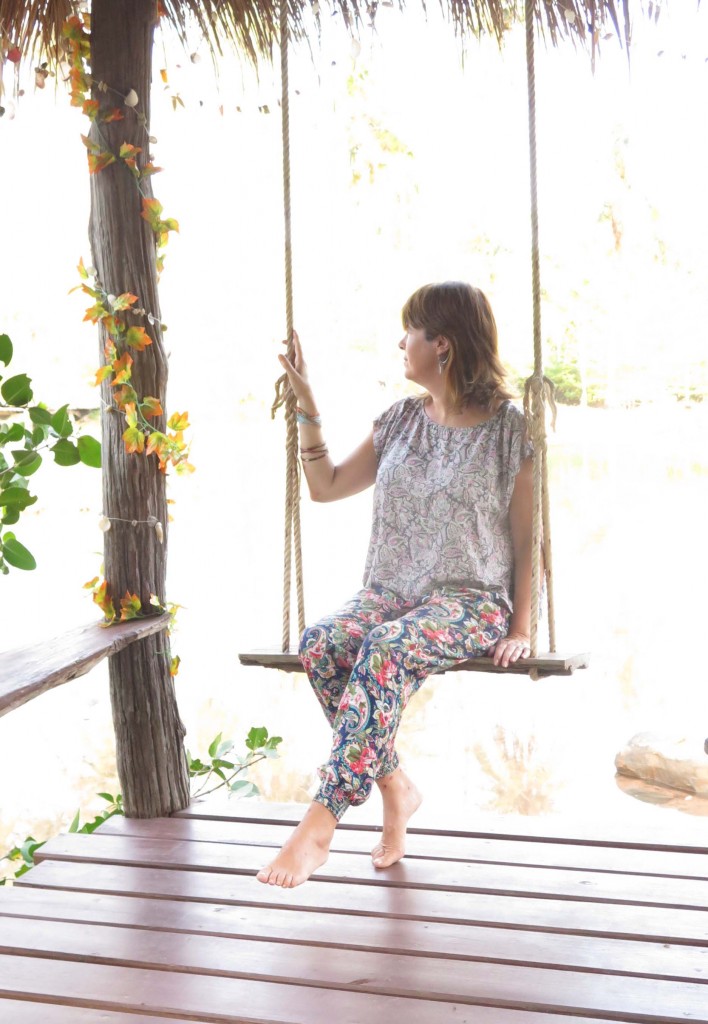 Vintage fabric T shirt top $20 – A.N.D
Floral trousers £5 in the sale – MIA, Union St Ryde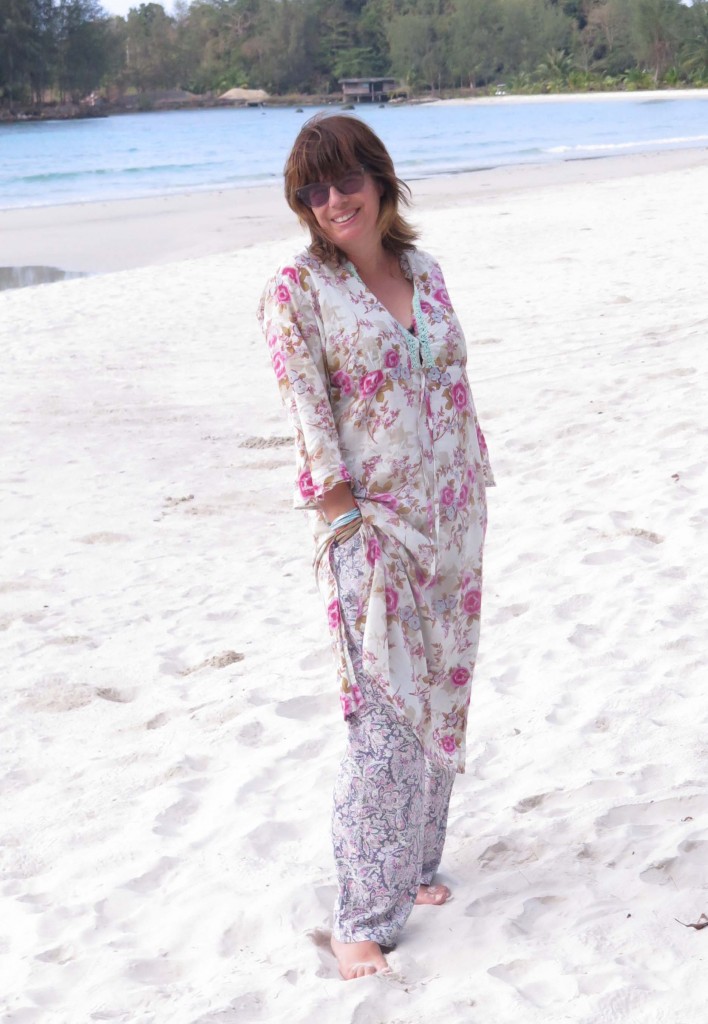 Vintage fabric pyjama pants $20– A.N.D
Kaftan, from a selection – Caro London
I have to say I'm loving the mix and am planning my summer wardrobe accordingly.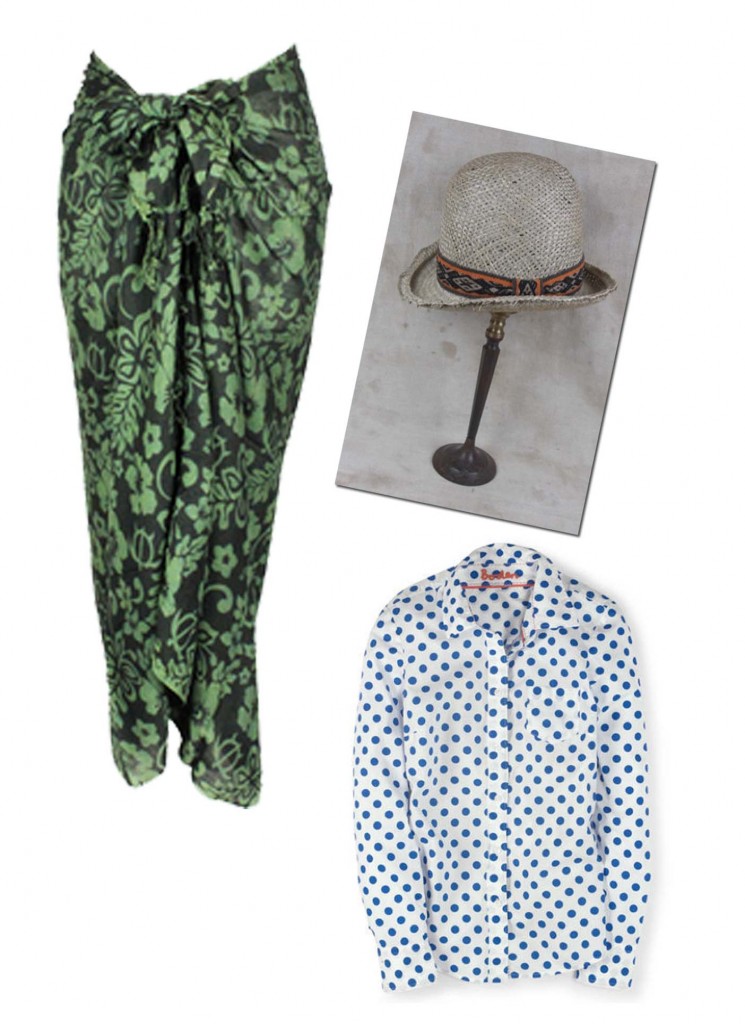 Sarong, £14.99 from Miss Hula, shirt, £39  Boden , 'Wild Bill' straw hat, £165, A Child of the Jago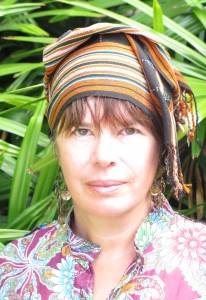 Just for fun I had a go at a Laos style head wrap with one of the gorgeous textiles I bought there … probably won't be taking this look home!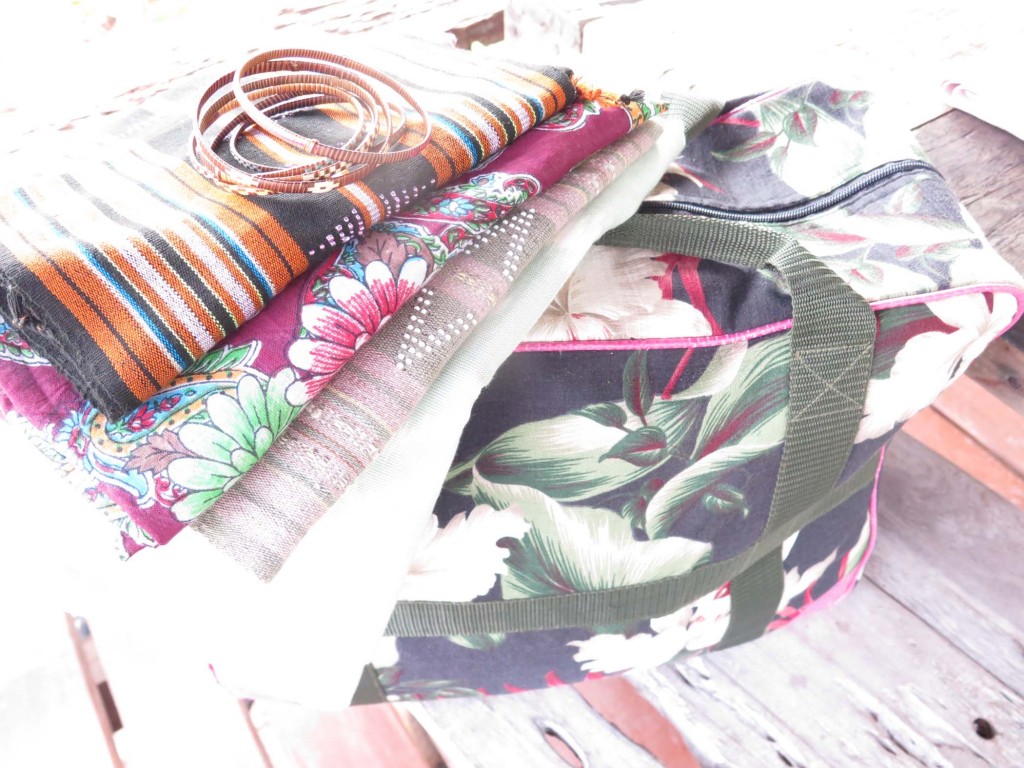 Beautiful colours and textures of South East Asia and my gorgeous new travel bag $25 from A.N.D … had to have something to carry my treasures home in.
A.N.D 52b & c Street 240 (opp 240 Hotel), Phnom Penh, Cambodia
We were staying at Montana Huts, Koh Kood island, Thailand
….. PS the colour combo is catching …. look at these shoes my husband bought in Bangkok! Nice one Frazer xx