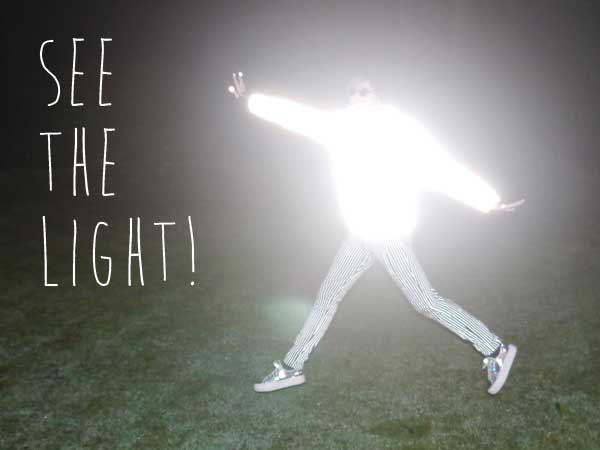 Forget spinfit, a real bicycle is where's it at. I am an enthusiastic – if fair weather – cyclist. I'm also a big fan of space fabrics. And I've discovered the best way to combine those two interests: hello reflective clothes!
Climbing aboard my road safety soapbox for a moment, it's beyond me why some cyclists insist on pedalling on the Isle of Wight's poorly lit roads without lights or reflective clothing. An old biker friend of mine calls those reflective body bands 'cissy strips'. But he's got a skullet, so what does he know about style? It's perfectly possible to make yourself dazzlingly visible to other road users without any loss of street cred. Reflective clothes have a fabulous futuristic appeal. Plus, for night riders, they're also eminently practical and could save your life.
London techno fashion brand Cyberdog is a great place to find space age clothes created from light-up, UV-sensitive and reflective materials. Doing a bit of background research, I discovered that the brand is the brainchild of Chi Chi the Space Chihuahua who crash-landed to Earth and made it his mission to make our clothes more exciting. I'm not entirely convinced by the veracity of this story, but the Camden-based retailer certainly has a creative range of cutting edge future-shock cyber-punk and space cadet wear. One of my favourite fabrics is their awesome printed circuit board pinstripe, in which I have a pencil skirt and trousers; business-like by day, bonkers at night.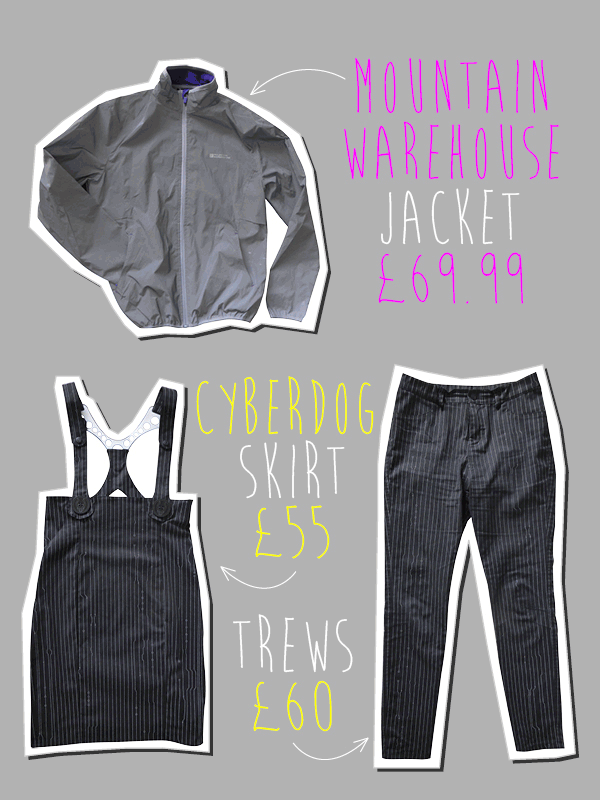 And stare in awe at my fully reflective jacket from Mountain Warehouse (top pic)! Remarkably, the week I bought it, experimental fashionistas Betabrand launched a crowd-funding project to manufacture a similar anti-paparazzi flashback photo-bomber hoodie. Certainly taking photos of my jacket with a flash created some interesting results. It was so light-reflecting that it pretty much obliterated the sight of anything else.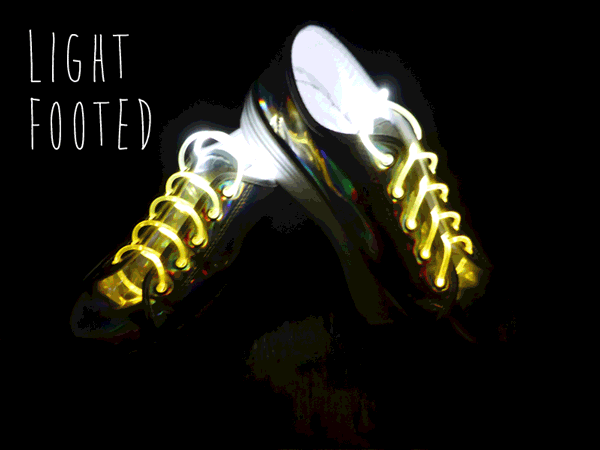 To ensure maximum visibility during my photoshoot, I replaced the laces in my Schuh holographic pumps with battery-powered light up ones, plus I made some reflective nail wraps from special tape I got from my local hardware shop Hursts. Oh, and I wore sunglasses. At night. To deflect the flash, obviously! #Poseur