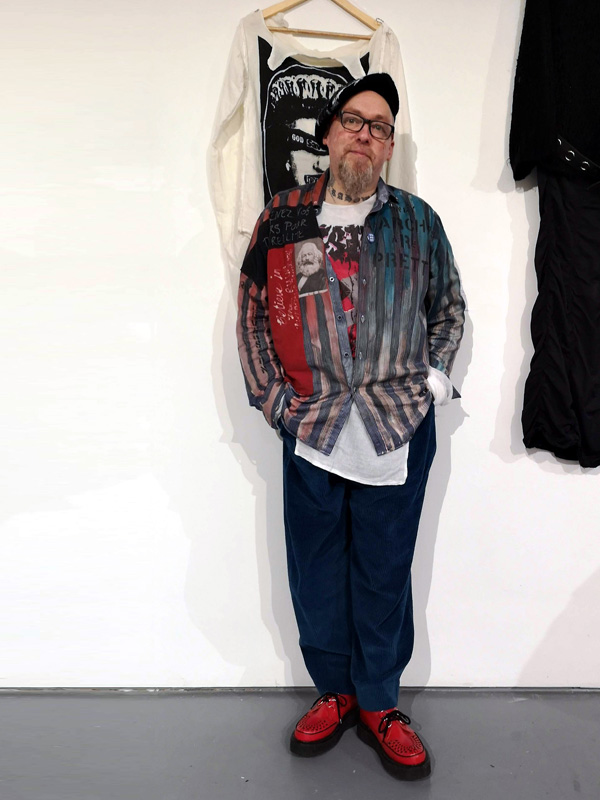 Being a vintage punk myself, it's easy for me to spot a fellow fashion subversive – especially when they are at an exhibition especially curated about vintage punk! And so it was, while wearing one of my many berets (more Diane Keaton than Captain Sensible) that I homed in on another beret across the gallery and went an introduced myself to its wearer, Ben.
How would you describe your look?
My look is the original idea of what punk was about. I suppose it goes back to the situationists sloganism from the Paris riots (Malcolm and Vivienne were part of that). 'Believe in the ruins', 'To create you must destroy'. Subversion of ordinary fashion ticked those boxes.
You're at this Isle of Wight punk exhibition – are you one of the originals?
Punk politicised me and veganised me. I pierced my ears with kilt pins and it's coloured everything I've done ever since.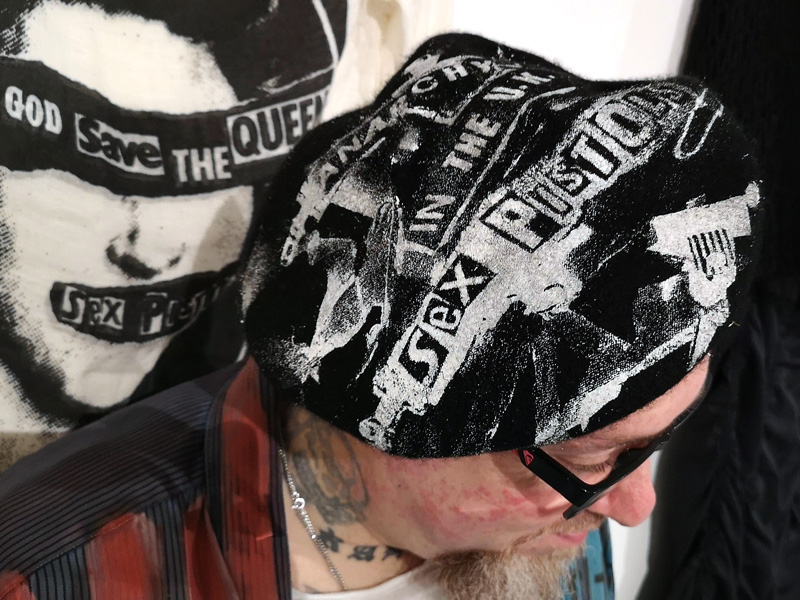 I'm loving that slogan beret. Where do you source your clothes?
My hat is an original Seditionaries 'Anarchy in the UK' beret. Some of my clothes are this season, others are reproduction. I tend to buy my clothes mail order.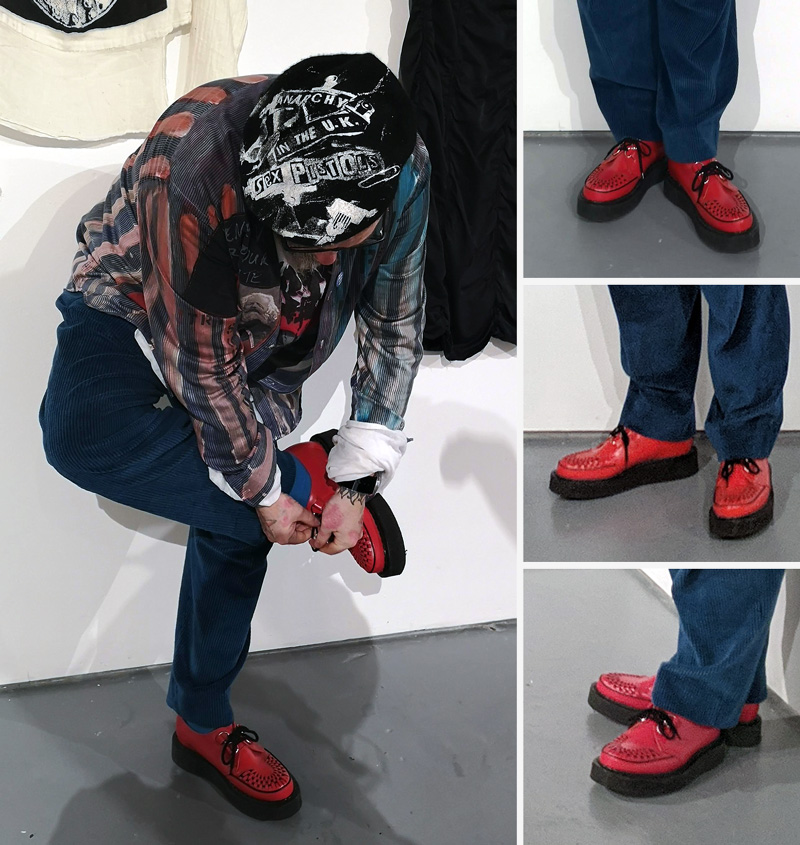 I love the way punks appropriated the Teddy Boy uniform of drape jacket and creepers. I have many pairs of creepers myself, in a nod to punk.
These are original Robot creepers. Legendary British shoes with hand-finishing.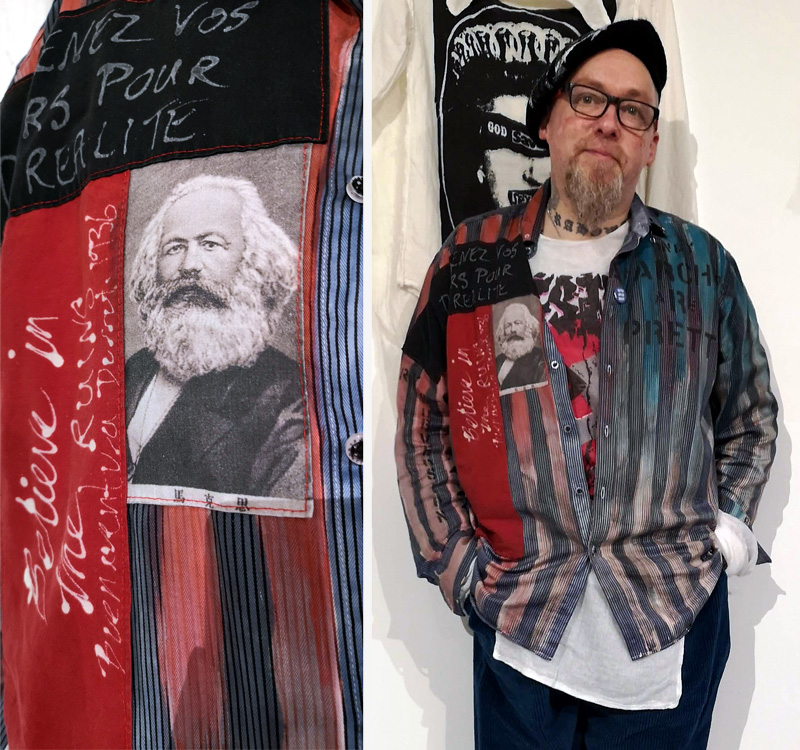 The exhibit you're standing in front of is a classic 'God Save the Queen' muslin shirt. Did you ever have one of those?
My shirt is an original Seditionaries vintage shirt. Underneath I am wearing a 'Destroy' muslin reproduction, printed using the original screens.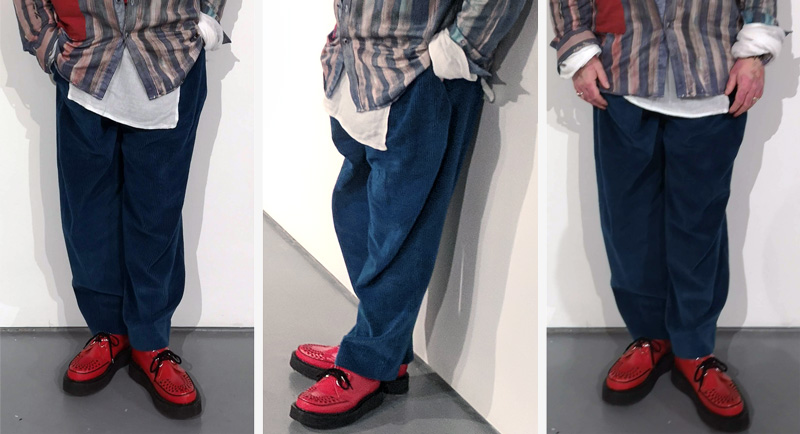 At first glance those cords look regular, but I can see the tailoring is unconventional.
My trousers are this season Vivienne Westwood, indigo alcoholic cords. The seams are contorted to create an asymmetric shape with a dropped crotch. I got them mail order.
You're certainly keeping the faith.
I'm a chemicals lead for the NHS at St Mary's Hospital, Newport but I wear Westwood every day. Vivienne's clothes cost a small fortune; I suppose they are an investment though.
Thanks, Ben.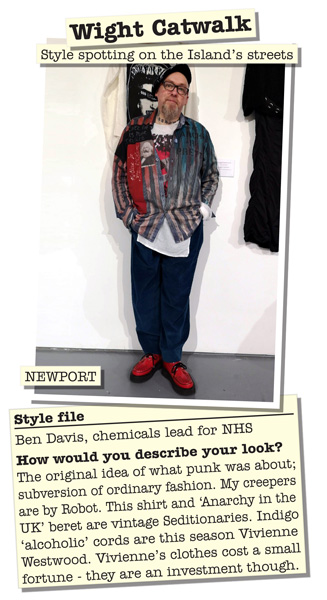 Ben Davis was spotted at Quay Arts, and featured as a Wight Catwalk street style spot in the Isle of Wight County Press.