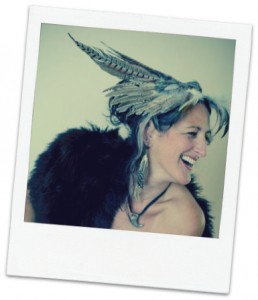 I first met Darryl Black ahem-years ago in the heady days of Phillip Salons Mud Club (where I worked 'on the door') as she was a pal of one of the resident DJ's Mark Moore. Fast forward a good few years and due to the Book of Face we touched base again.
I was immediately intrigued by Darylls clothing – then available on Etsy or direct from Darryl at her travelling store, well known at cool music festivals throughout the UK
Bestival 2011 saw me ignoring the music and trying on all the garments in Darryls shop before buying the first one I tried – a cardigan-coat hybrid in my go-to muted tones and featuring Darryls trademark felted 'dreadlock' tassels.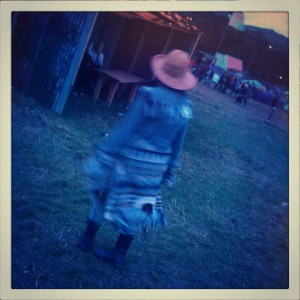 me doing a twirl….
A firm favourite in my wardrobe it comes out every autumn. These designs are an true investment piece as being so unique they transcend fashion trends.
As well as selling online Darryl now has a shop in her hometown of Brighton.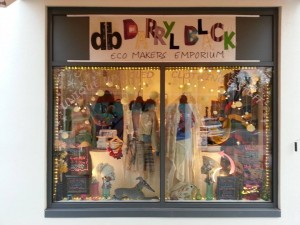 The quote on Darryls website about her designs and her customers is true …. "They may wait a while before they are united, but when they find each other, it is LOVE!"
Q&A's with Darryl Black
Do you now only use recycled fabrics and clothing in your designs?
I would say I use about 95% Recycled materials or garments – only some of the embellishments like the dreadlock wool fringing is newly sourced
What comes first – the idea for a design that you will source items for or do the materials lead the design?
Definitely the materials lead the way – they give me the inspiration for what I create and can act as a guideline or a brief in some ways
I was going to ask if clients ever bring in a garment to be re-worked and then I read on your website that you offer this service – what is a ball-park price and are there any customer guidelines for this?
For custom or commissioned items I usually suggest the customer look at my archive albums to get an idea of what I do and they can either provide some of the materials themselves or specify colours/shapes that they want.They can also look at what I have already sourced and choose from that. Prices range from around £80 for a sweater up to £400+ for a wedding dress
Is there a Darryl Black customer … and has this profile changed now you have a high street shop front?
Yes my customer has evolved over the years from when I started with a stall in London's Portobello Market which led to stocking a number of independent boutiques in London and UK. At the time 'Deconstruction' was on trend and popular with style setters but not so many people were Eco Fashion Conscious.
Nowadays with ethical fashion and eco friendly design being so much more in the public awareness more of my customers fall in love with the idea that the pieces are unrepeatable,unique & handmade. They are concerned with making an eco conscious statement of sustainability, individuality as well as supporting a small business with what they wear and where they choose to spend their money. The age range is from 25 – 65 women and men looking for something different that expresses their individuality, who wish to invest in an eco conscious small business rather than planet polluting people exploiting mass production.
Tell us a bit about the Eco Makers Emporium
My shop Eco Makers Emporium was launched in Brighton in July 2014 providing an outlet for my own Upcycled designs and housing upcycled & handmade products of a high quality from various local designer makers as well as my own.I work from the premises with a small studio space at the back of the shop and also hold popular monthly Courses & Workshops sharing my knowledge and skills in Upcycling
Is there 'one that got away'…. i.e. a piece you really regret selling?!
Ooh the one that got away would probably have to be a dress I made a few years ago from a fantastic Yves Saint Laurent Chiffon skirt that was long enough for a only 7ft tall woman to carry off ….yes regret letting that one go!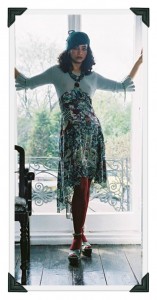 … not surprising #gorgeous!
Darryl Black Shop Facebook and Etsy
Eco Makers Emporium Unit 25 Brighton Open Market, Marshals Row Brighton BN1 4JS
info@darrylblack.com