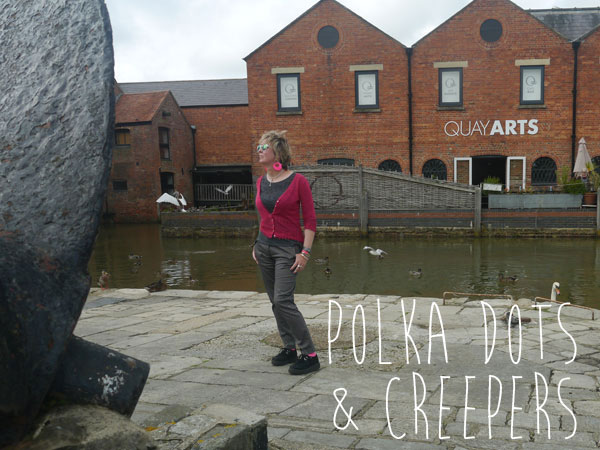 Like smoking itself, cigarette pants ain't going anywhere. These tailored skinny strides have been flattering women's pins since the day Audrey Hepburn grabbed a be-bowed Yorkie and hopped astride a Schwinn bicycle. Even the boys got in on the act; Elvis' drainpipe-clad legs were considered the height of rebellion and vulgarity. Soon tight-fitting trousers became the uniform of one of the first modern teenage cults – Teddy Boys. Even today's carrot-fit jeans owe more than a nod to their ancestors; their ankle-constricting tightness enhancing the shape of a man's calf (which in itself was considered pretty racy even way back in the 1660s).
These tapered trousers are often cut short – though not as high as, say a capri pant. Today Wight Catwalk wore her H&M spotty pants with a pair of TUK creepers in black fabric with a subtle zebra flocking. From a distance the trousers' polka dots were as discreet as the animal print on her shoes. However, her scintillating spotty bottom had the sort of repeating patten that would cause eye-boggling havoc on telly – creating what TV technicians call interline twitter.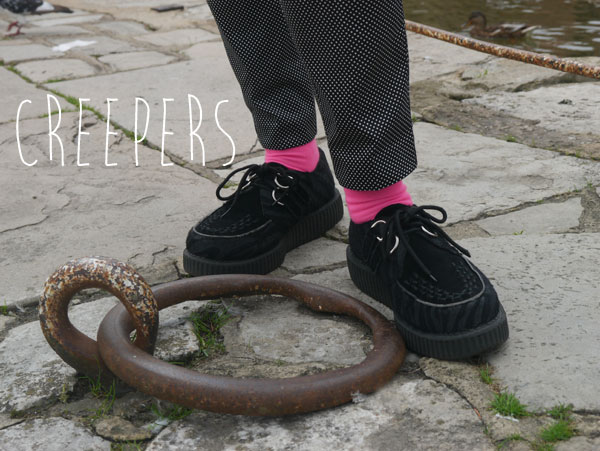 Creating an intentional Teddy Boy pastiche, Wight Catwalk punctuated the look with magenta accents; neon ankle socks (Primark), capiz-shell earring from Claire's and a vintage embellished cardigan from Next – back in the days when the (then) Poshest Shop in Newport was adjacent to Newport's Superdrug, local history fans.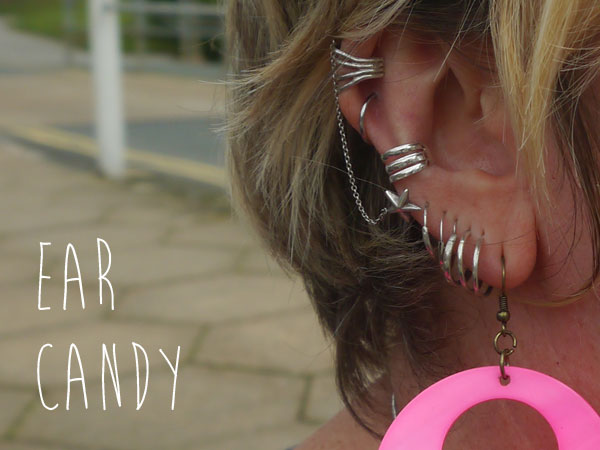 Like any wannabe punk, Wight Catwalk has her fair share of piercings; today her ears have one or two ear cuffs for pain-free extra bling (Essential, from £3.99). On a daily basis this amount of ironmongery is quite acceptable but, on the occasion of her trying to enter the Houses of Parliament, there was a slight hesitation from the security staff operating the metal scanner!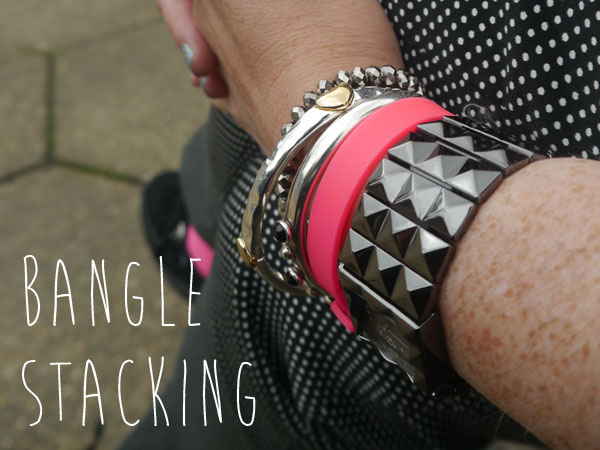 Wearing more than one piece of wrist wear isn't just a personal preference, it's now officially A Trend – and its name is bangle stacking. Here Wight Catwalk mixes up a pyramid stud cuff watch, a neon pink silicone wrist band and a faceted beaded bracelet (all from Claire's), along with a silver and gold-heart accented bangle, and solid silver torque embellished with cabochon-cut black onyx. The fun of layering is mixing up the cheap stuff with precious metals.
The rest of the outfit was finished with a ubiquitous beret (wasn't that the name of a New Romantic band?), and a favourite vintage linen jacket. Sunglasses by New Look.
So, what have we learned? That there's nothing new under the sun. Ms Hepburn was pioneering androgynous chic in her tapered trousers, and your granddad was dancing the heel-toe in drainpipes before you were an eye in your father's twinkle. And then tomorrow it'll be flares again. Probably.