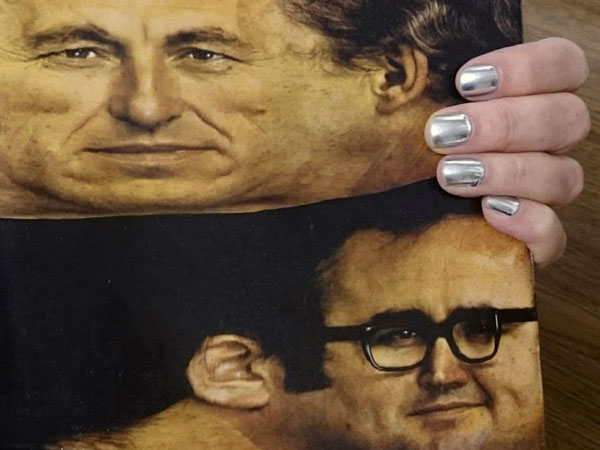 Waiting for nail polish to dry? Nobody ain't got no time for that. I have been known to lard on layers of glitter nail polish like the next middle-aged wannabe Harajuku girl, but it is a quite a commitment. Drinks have to be poured in advance and an epic Woody Allen film must be pre-poked in the DVD slot, then I'm set to go.
If the hands of time are whirring against you, your nails can still be party-ready in an instant with nail stickers. Nail art is… well, an art – but who's got the time, artistic skill and steadiness of hand to doodle kittens or unicorns on their nails? And what happens when you come to paint using your non-dominant hand? Yup – a smudgy mess. People, know your limitations!
I've become quite a <ahem> dab hand at modelling nail stickers. Some brands, such as Claire's are pretty enduring; the Union Jack ones I wore for the Queen's diamond jubilee would've lasted long enough to see Prince Charles on the throne, if I hadn't eventually picked them off.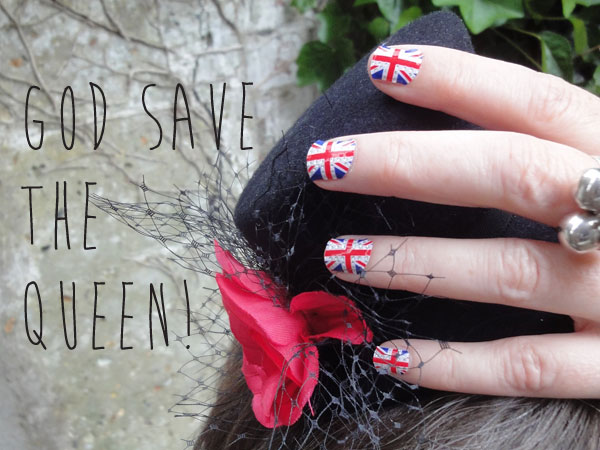 Others, like the ones full of holographic promise that I bought from Cyberdog started well but were, alas, disappointingly flimsy and scratched off in a moment.
I've had some great success with Maybelline's "runway ready show-stopping statement" nail stickers in a twinkly 'Zebra Night' print – a remarkable two-for-a-pound from Poundland. The funky nails stayed on for an age; so long that, like the jubilee nails, I had to peel them off before they showed any sign of degradation – and that was after about three weeks!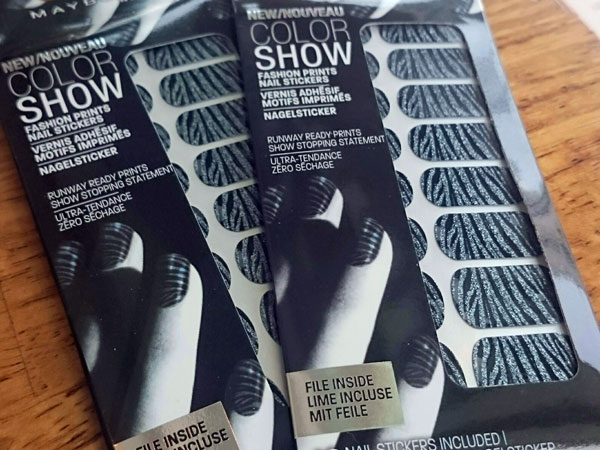 Inspired by the longevity of the Maybelline stickers I had a bit of a splurge on ebay and bought a whole bunch of different designs in the same brand, including chrome-a-like! Yes, folks, metallic nails were within my grasp (£1.99 a pack). I gave my nails the mildest of buffing and then just applied the stickers straight on. They come pre-shaped – one end slightly more rounded than the other – so you should be able to fit them nicely to your nail bed. S-m-o-o-t-h them down, nice and flat with no air bubbles, then use an emery board to shape the business end against your own nail to remove the excess. Bob's your Monkhouse!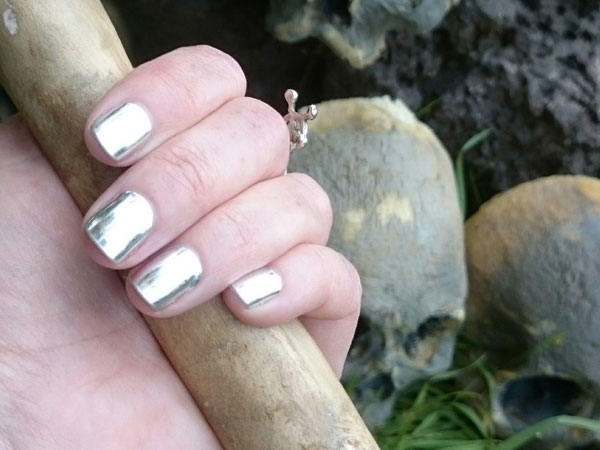 The Maybelline 'Platinum Standard' nail stickers were amazingly chromy; reflective and smooth, like the bumper of my old Ford Anglia. I was part woman, part cyborg (in my pathetic fantasy world). Alas, unlike my vintage car, the chrome came off almost instantly. Within two days it was pretty much gone. My nails looked like this and my cyborg fantasy was all over…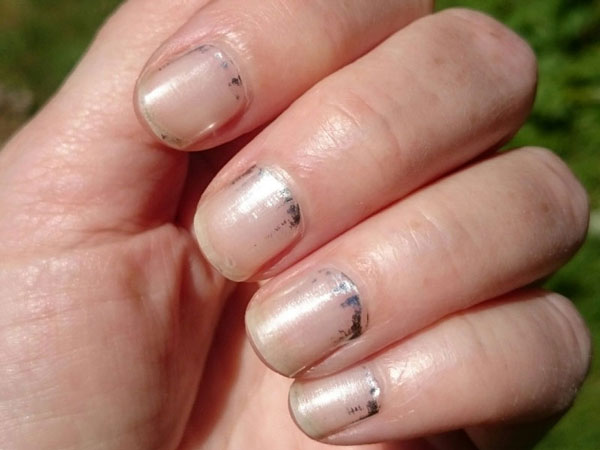 To be fair, the stickers themselves retained their purchase on my nails but the metallic coat, so shiny and futuristic, was gone. Where did it go? I think it just eroded away every time I put my hand in my pocket, or rummaged around in my space bag.
My attempts at having metallic nails have once again been thwarted but never mind, I still have a packet of the 'Zebra Night' stickers and some more Union Jack ones for the next significant royal event. The search for space nails continues…
Photographed on location at Ryde's Appley Beach, during Shipwreck Isle. Aaarrrhhhh! (Of course they're not real bones!)