Without wanting to gloss over the shambles that led to the Isle of Wight's long-standing Conservative MP standing down from his position, enough has been said about that elsewhere. Either way, it was a mention of the Isle of Wight's first Pride event that precipitated his departure – Pride came before his fall, if you will!
The Island has a new (Tory) MP  and, despite – or most likely because of – the national furore that surrounded Andrew Turner's assertion that homosexuality is "wrong" and "dangerous to society" the run up to Pride gained significant traction and all the tickets were snapped up.
I, of course, managed to get a wristband (VIP natch!) and popped over with the Wight Catwalk camera to spot the street style icons among the glitterati.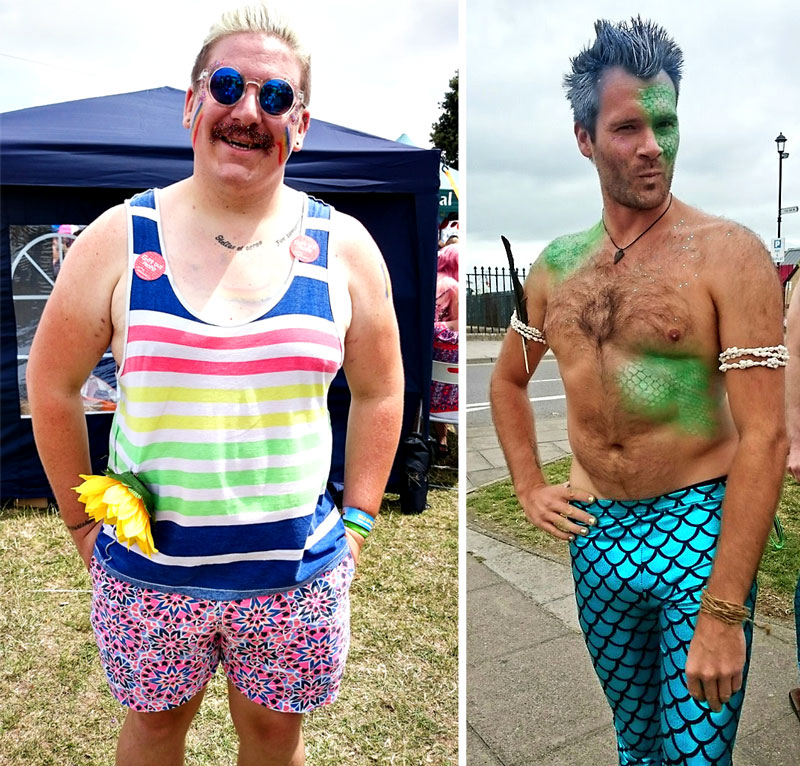 David (left)
I was drawn to David's sunglasses as they are similar to mine – and, of course, I could see my own reflection in them! David told me that he was "out and proud" in the IW Pride village. He was wearing a vintage rainbow vest and psychedelic shorts. His glitter 'tache and brows were by Ness at Essence, Union Street.
Adam (right)
Mer-man Adam was quite an arresting sight and has, so far, received the highest number of 'likes' on the Wight Catwalk 'Pride' Instagram feed. I have nothing more to add about his look – and I'm glad he didn't add any more either!

Cat
Here I am waiting in Union Street in the calm before the IW Pride parade. The rainbow really is the symbol of Pride and I kept the faith in my rainbow striped socks. Otherwise it's metallics and iridescence pretty much all the way.
My iridescent jeans and cross-body bag are by H&M. This appliquéd metallic tee with 'LOVE' and Japanese script by Asos. Cute unicorn, rose and other badges by Topshop. My mermaid glitter pumps (much admired by mer-man Adam Smith) are by Primark. The summer weight optical monochrome coat I bought in TK Maxx.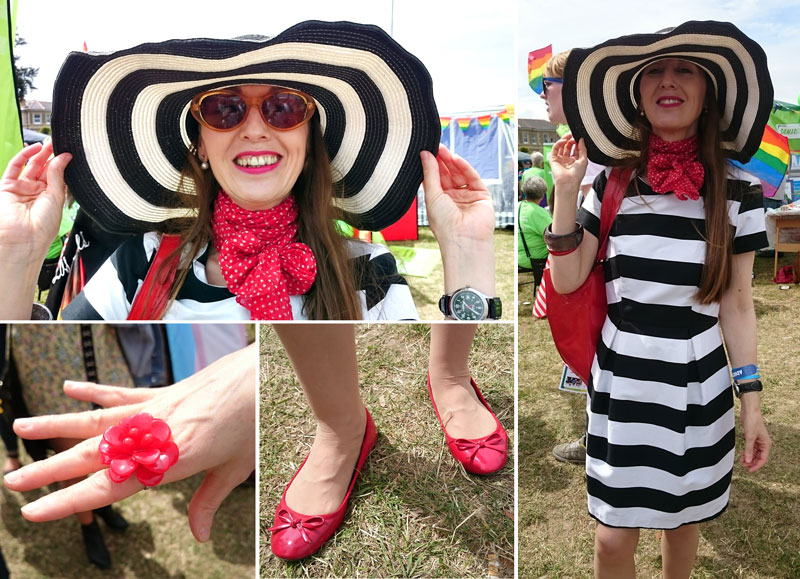 Sally
I met Sally in the IW Pride village.
How would you describe today's look, Sally?
"Monochrome with red accents. I'm pleased with this dress; I got it in a charity shop for £7. My red pumps are from the Red Cross shop, £1.99. This floppy hat was £10. I've accessorised my outfit with bangles from Earl Mountbatten Hospice shop, and this red rose ring which was 50p in a car boot sale."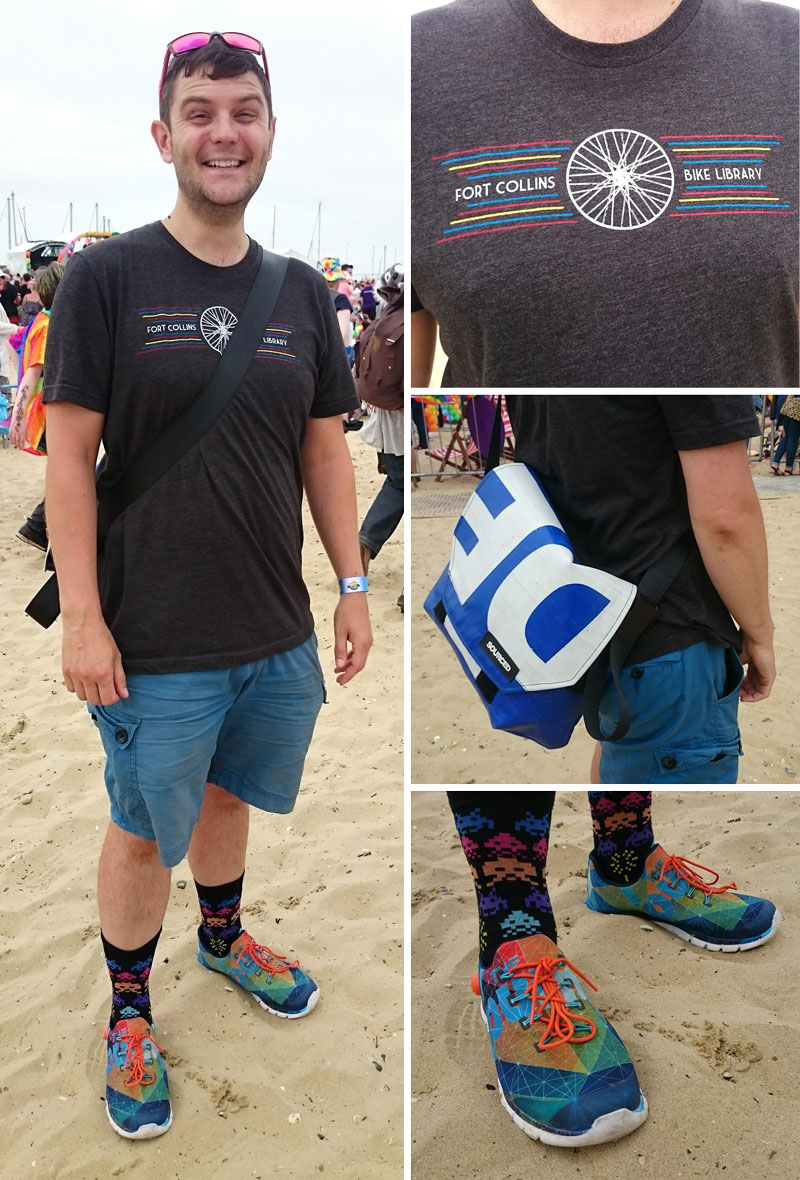 Matt
Matt, who I bumped into at the IW Pride beach arena, described his look today as "Utilitarian, but with colour."
Tee shirt: Fort Collins Bike Library, Colorado. "It's a great bike share scheme." Messenger bag made from upcycled truck tarpaulin is by Sourced. Futuristic geometric-print trainers by Reebok – "Bolton is the home of the trainer!" – bought in TK Maxx. Space Invader socks.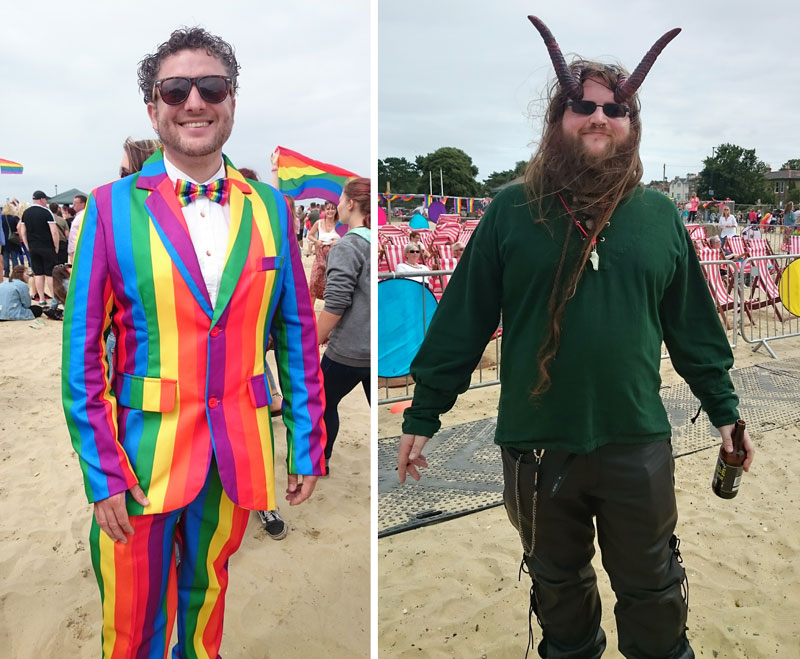 Edward (left)
Even among the many, MANY rainbows on the IW Pride beach arena, Edward stood out. "My look today is OUTRAGEOUS,! I've been stopped a lot!"
Simon (right)
It takes a lot to get noticed at a Pride event and Simon's horns were pretty distinctive. He described his look as Pagan Gothic. Horns (models own!), beard jewellery, Thor's hammer detailing, leather laced trousers – all the hallmarks of a Pansexual, I learnt.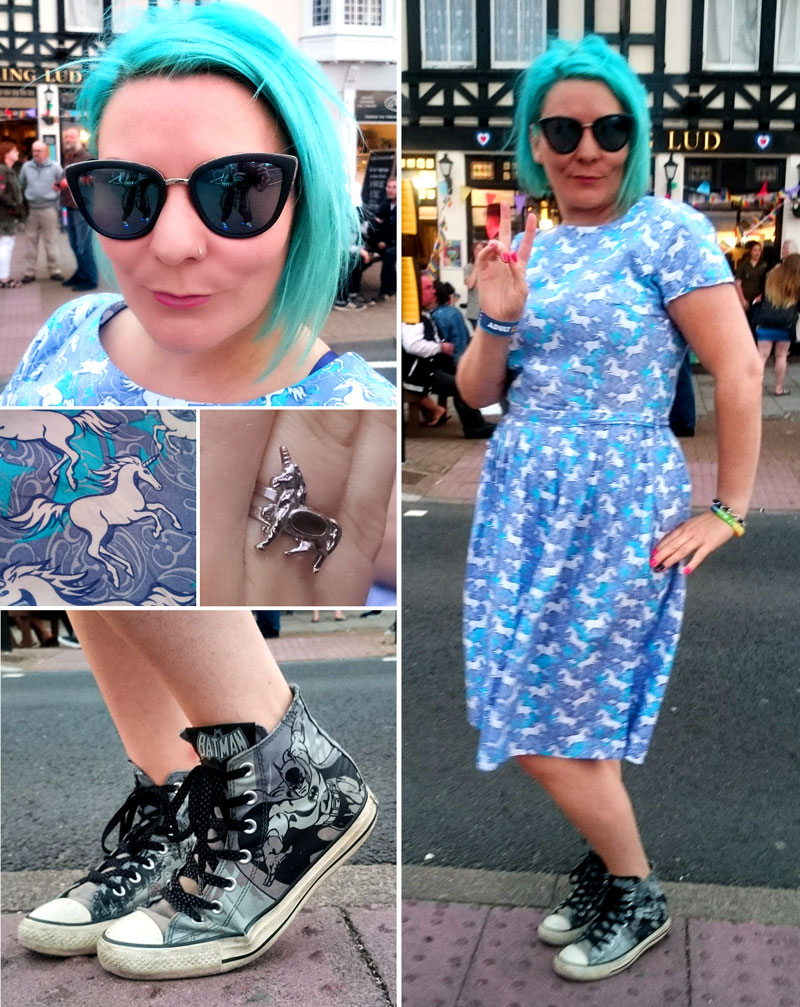 Hels
As the evening drew on, the beach arena was closed and I met Hels outside the King Lud having a pre-Pride after-party drink. Rainbows and iridescent mermaids may be the tropes of Pride, but so too are unicorns and Hels was representing in spades. She told me, "My soul is punk but today I'm rocking a retro-vintage rockabilly look, especially for Pride."
Hels' unicorn print dress is by Run and Fly which she bought locally in Ryde's Bou-Chic. Her Batman Converse are from from Schuh and her hair is Stargazer UV turquoise.
Thanks to everyone for their fabulous street style!
Hopefully IW Pride will be back next year!
Save
Save
Save
Save
Save
Save
Save
Save
Save
Save
Save
Save